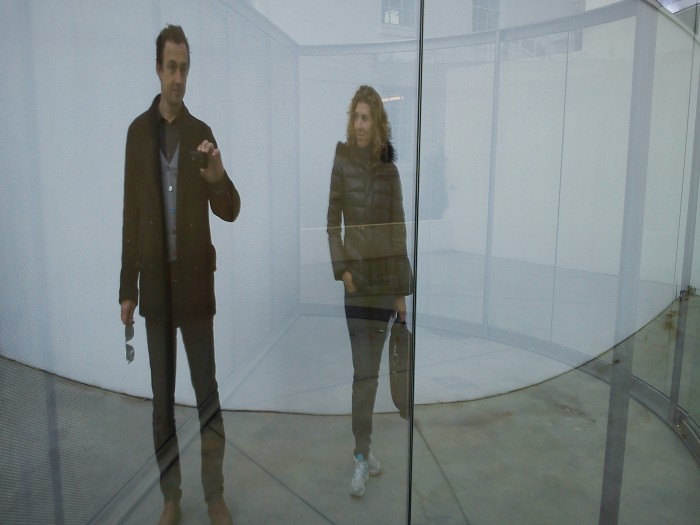 Sophie Warren is an artist and Jonathan Mosley is an artist/architect and Associate Professor at Bristol UWE. Their collaborative work generates new and found architectural spaces as settings for physical or imaginary occupation. These settings and occupations explore the real, the symbolic and the imaginary of architecture. Within them the coded forms of architecture and its rules, roles and territories are de-stabilised and transgressed. Enlisting participants, each work opens up a space of plurality and contingency allowing for negotiation and improvisation by its 'players'. The work extends the nature of 'being-with', mobilising momentary collectives of bodies, objects and architecture that are discursive, mediated, playful and rogue.
Their projects have been commissioned by museums, galleries and research organisations, including: 'Days of Action' event series in the circulatory spaces of Tate Modern, London (2018); 'A Nodding Acquaintance' performative setting for Edge Arts, Bath (2017); Institute Français 2016 artist laureates for residency at the French Communist Party Headquarters in Paris;  'Rogue Game' (with Can Altay) a series of hybrid game settings forming solo exhibitions at Firstsite, Colchester (2015), Spike Island, Bristol (2012), Casco, Utrecht (2011) and solo event at Showroom, London (2010); event series 'Utopian talk-show line-up' (2012-14) at Moderna Museet, Malmo, Eastside Projects, Birmingham, SantralIstanbul, Istanbul; 'Doing Things Separately Together' mapping project at Arnolfini, Bristol (2014); 'Strategies of Indirection' for 'The Right to the City' exhibition and conference at Tins Sheds Gallery, Sydney (2011); publication 'Beyond Utopia' (Berlin: Errant Bodies Press, 2012) presenting the screenplay of a provocative planning application for an imaginary architectural vertical common for the City of London. Their work has been widely published, critiqued and won awards from Arts and Humanities Research Council, Arts Council, British Council and Rootstein Hopkins Foundation.
The practice is a site of exchange and ongoing collaboration with other artists, writers and architects including: Can Altay, Dennis Atkinson, Hannah Davey, Maria Fusco, Brandon LaBelle, Marie-Anne McQuay, Paul O'Neill, Elizabeth Price, Jane Rendell, Louis Rice, Rachel Sara, Lee Stickells, Stephen Walker, Axel Wieder and Robin Wilson.